Rose Hill Farm.
Location: Mile 1. On Rice Road and Bosworth Lane, behind Keeneland.
Owner: Tony O'Campo, along with his wife, Lisa, and three children, Wyatt, Victoria and Hillary.
One of the first farms you run past on the right, after exiting Back Gate Drive from Keeneland onto Rice Road, is Tony O' Campo's Rose Hill Farm. Spanning 375 rolling acres, with seven barns and 100 stalls for the mares, weanlings, yearlings and foals on the farm, Tony has turned this beautiful farm into an impressive and well-located nursery.
Tony graduated from Louisiana Tech University in 1988 with a BS degree in Animal Science (with minors in Equine Management and Spanish). After graduating Tony moved to Lexington and worked for Prestonwood Farm from 1988-1990 (Prestonwood is now the same land where our honorary farm for 2019, WinStar is now located).
He then managed Gleneagles Farm in Versailles, KY from 1990-1999, and in 1999 bought the business from Ken Baker and renamed it Rose Hill Farm. In 2003, Tony relocated the farm to the current location, which borders Rice Road, Bosworth Lane and Elkchester. You will therefore also pass Rose Hill Farm again on the right around mile ?? on Elkchester as you run back in to Keeneland on the home stretch of the RunTheBluegrass half marathon.
Tony has had an impressive roster of success in the 15 years at his current location. In November 2017, owners Vincent and Marie Colbert sold a beautiful bay weanling filly by Street Sense out of their multiple stakes-producing mare Quickest for $1 million at the Fasig-Tipton November sale. Quickest is the dam of Callback, a Grade 1 winner, and Defy Gravity, all bred by owner Colbert. Tony boards the Colbert's mares and foals at Rose Hill Farm. The $1 million filly is a full-sister to brother Callback, who sold for $2.8 million in the 2015 Fasig-Tipton November Sale.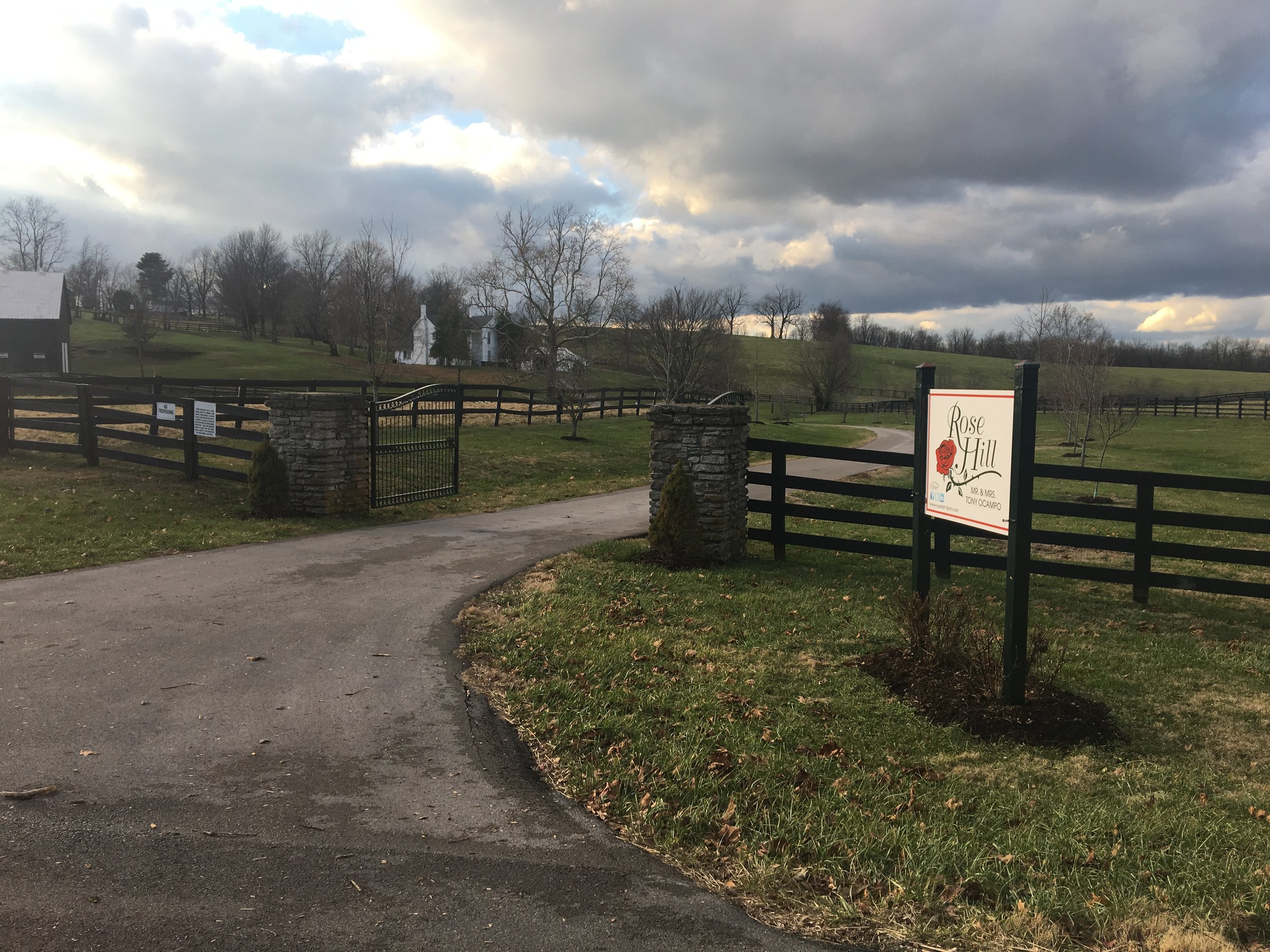 Tony boards horses for several owners and raises his own horses; breeding the mares to stallions at the central Kentucky farms, foaling the babies and then prepping the babies once weaned from their mothers at 6 months of age (and thereafter known as weanlings until January 1, when they are then known as yearlings.) These weanlings and yearlings are then sold at the Kentucky horse sales at Keeneland and Fasig Tipton, in New York at Saratoga, and even at sales in England and France. Tony pays incredible attention to detail with the horses he raises, with the yearlings exercised both on the horse walker and walked or jogged in-hand to bring the horses to their best physical condition in time for the sales. He also takes great care with their feed routine, grooming and daily care, evident with the success he has had both at the sales and at the track with Rose Hill Farm-raised horses.
Recent winners bred and raised at Rose Hill Farm include, in 2018, Mojo Man (2015 colt Stay Thirsty-Cooking Mama), bred by Tony O'Campo, has been running well at Arlington Park. Devious Charm (2016 filly, Into Mischief – Limbo) is now a maiden special weight winner at Kentucky Downs. Full of Grace (2016 filly, Strong Mandate – La Glamorosa) won a maiden special weight at Canterbury Park in September as a two-year old. Filly Shanghai Tariff (Shanghai Bobby -Star White),was second twice this year in four starts. Bodefecta (Bodemeister – Brave Michelle), had two seconds and a third from four starts in 2018 and sold as a yearling for $100,000. And finally, Encumbered, winner of the Breeders Cup Juvenile Turf in 2017, by Violence – Dying To Dance, was bred by Tony O'Campo and partner, Frank Stroope.
Mares currently at the farm include multiple stakes winner Capella Dancer; Limbo, dam of the above mentioned Devious Charm; and Quickest, who is currently in foal to Pioneerof The Nile (sire of American Pharoah!) and who had a filly by Darley stallion Frosted in 2018.
Tony's teenage daughter Hillary may continue in her father's footsteps in the horse business. She currently enjoys competing in hunter jumper classes, many at the Kentucky Horse Park, on her show jumper named Casino.