About Old Frankfort Pike
This 16.9-mile scenic byway connecting Lexington and Frankfort, Kentucky has been voted "one of the ten best scenic drives in the United States." Along the way, you will pass many of the Thoroughbred Farms for which Kentucky, and the Bluegrass area in particular, are famous, giving Old Frankfort Pike the nickname, Thoroughbred Alley.
In the words of Trails.com:
"Surrounding Old Frankfort Pike for many of its 16.9 miles are beautiful locusts, Osage orange, dogwood, redbud, red and white oak, and sugar maple trees - often forming a canopy above your head as you pass through! In the spring, the flowering redbud and dogwood make an especially spectacular display."
As you drive along, you will also see Kentucky's famous old limestone rock walls and six districts, plus four properties listed on the National Register of Historic Places, including a cemetery which is home to Revolutionary War soldiers.
History
Old Frankfort Pike was originally referred to as "Old Lexington - Frankfort Road" and came into being sometime between 1775 and 1780 as adventurous early Americans traveled between Maysville, Kentucky and Louisville during the Revolutionary War time period, even before Kentucky became its own state in 1792.
Eventual American Statesmen like Henry Clay and John Crittenden traveled along Old Frankfort Pike back then, staying at the Blackhorse Tavern (later named the "Offutt-Cole Tavern") in Midway, Kentucky, built by Richard Cole Sr. for his wife and two sons in 1782.
In those days, Kentucky was considered the "wild, wild west," as Richard Cole Sr.'s eventual great-grandaughter - raised in Blackhorse Tavern - was Zerelda James, who became the mother of arguably America's most infamous outlaws, Frank and Jesse James!
Less violent and much more profitable, the Bluegrass region's first known Thoroughbred Farm was founded in 1790 by the Alexander family, named Woodburn Farm, which is now home to part of Airdrie Stud.
"Thoroughbred Alley"
The breeding, racing, and sale of Thoroughbred Racehorses is a multibillion dollar business in Kentucky - as the Commonwealth produces more Thoroughbred foals than any other state in the United States.
The history of Thoroughbreds (always capitalized!) on Old Frankfort Pike pre-dates even the statehood of Kentucky itself. The horse industry in Kentucky has its roots right along this road and has grown over the centuries to produce some of the worlds greatest racers and stallions - by such majestic farms as Stonestreet Farm, Lane's End Farm, Airdrie Stud, Darley America and Three Chimneys Farm plus nearby Calumet Farm, WinStar Farm and more.
About our Web Series
Our Half-Marathon each spring races along 2.2 miles of Old Frankfort Pike's 16.9 miles on the far western side of Fayette County, past the likes of Donamire Farm, Ballantrae Farm, Frankfort Park Farm, Stonestreet Farm and ten others.
Our goal is to help you not only learn more about Kentucky history and its beauty between now and then, but to also enable you to enjoy your Race Day Experience even more than ever, fully knowing all the amazing heritage you'll be racing through that Saturday morning.
Our Old Frankfort Pike Contributors
Esther Zunker, Jamie Yunker, Rachel Crabtree and Eric Marr
And very special thanks to
Levana Capria of Lane's End Farm, Kara Heissenbuttel of the Keeneland Association, Becky Ryder and Betsy Baxter of the Keeneland Library and Gemma Freeman of Stonestreet Farms
March 27, 2015
Nestled in the center of the historic cluster of Thoroughbred Farms on Old Frankfort Pike is Frankfort Park Farm.
Owned by a partnership headed by Irishman Brendan Gallagher and his wife, Olive, Frankfort Park is home to 35 hand-picked mares, which have provided the foundation for the farm's successful sales consignment agency. Brendan Gallagher is the CEO and runs the farm, where they breed, foal, raise, do sales preparation, consign and sell Thoroughbred racehorses.
With seven barns spread over 240 acres, the farm also boasts seven modern indoor American barns, a lunging ring, horse walker, stud railing and run in sheds.
The farm was previously owned by Jim Plemmons, who stood the 1992 Kentucky Derby winner Lil E. Tee.
"The whole thing has become bigger than we ever envisaged," Gallagher told the Racing Post. "When we set out, we did a lot of quarantine and we thought that would be our main thing. But while we still do quite a lot of that, producing good, well-bred horses has become our main priority."
"We set out to buy the best mares," Gallagher added. "And we've tried to use the best, commercial stallions depending on how they suit the mares. We sell all our best stock as weanlings because I feel that if you have really good one, you might get as much for it as you would a yearling."
*Note: All photos were taken during Lexington's recent snowstorm in early March.
Photos and copy courtesy of Darby Dan Farm
March 20, 2015
For a century, Darby Dan's white-fenced rolling pastures have blended great horses and colorful characters into lasting legends of the Bluegrass.
At the beginning of the 20th century, the legendary Colonel E. R. Bradley developed a top-rate equine facility and assembled breeding stock from the finest Thoroughbreds in the world at his farm he named Idle Hour. Bradley's efforts produced four Kentucky Derby winners: Behave Yourself, Bubbling Over, Burgoo King and Brokers Tip.
After Bradley's death, John W. Galbreath purchased the core property of Idle Hour. Re-naming the farm Darby Dan, Galbreath's results were profound. In 1961, Galbreath imported the undefeated (16 for 16) European superstar Ribot from Europe. That effort paid large returns when Ribot's sons Graustark and His Majesty proved very successful in the decades that followed. He also engineered the lease of the great European horse Sea-Bird, as well as the acquisition of Kentucky Derby hero Swaps, and Horse of the Year Sword Dancer.
In 1963 and 1967 Darby Dan added to the farm's classic heritage, with Chategay's and Proud Clarion's victories in the Kentucky Derby. In 1972 Darby Dan's homebred Roberto bested favored Rheingold in the English Derby at the famous Epsom course.
Then in 1985 Darby Dan's Proud Truth won the Breeders' Cup Classic, making Darby Dan the only farm in history to accomplish this most coveted trinity of races.
Galbreath's grandson, John Phillips, has remained committed to Darby Dan's esteemed heritage. The farm's more recent grade I winners and/or champions include Sunshine Forever, Brian's Time, Grass Wonder, Tribulation, Plenty of Grace, Memories of Silver, Soaring Softly, Wonder Again and Winter Memories.
Since the days of Colonel Bradley, horse racing and breeding has changed considerably. Similarly, Darby Dan has made the transition from private facility to a commercial one, offering a full array of services. At Darby Dan there are over 150 mares owned by Thoroughbred enthusiasts from all over the world.
Photos courtesy of Bluewater Sales
March 6, 2015
If the design of Bluewater Sales and Three Chimneys' yearling division barns look similar, it's because the two properties were once combined.
Meg Levy purchased a 120-acre parcel of the Three Chimneys land to form Bluewater in 2002, and has since grown it into a successful Thoroughbred boarding, sales preparation and consignment facility.
Interestingly, the first horse sold by Bluewater was Take Charge Lady, who went on to produce 2013 champion 3-year-old colt Will Take Charge and grade I winner Takes Charge Indy. Since then, 12 millionaire racehorses in 11 years have graduated from Bluewater's sale preparation programs.
Located in the heart of Bluegrass country on Old Frankfort, the serene property has 23 paddocks, two 20-stall barns and a five-stall barn for its equine residents. A natural spring flows on the farm, providing water to the barns and paddocks. The farm's main house is listed on the National Register of Historic Places as the "Drewsilla Steele House."
Decades ago, Bluewater Sales and nearby Windhaven Farm were part of a larger operation called Silver Crest Farm, which was owned by the Beck family of the prominent Gainesway Farm. Later, under the Three Chimneys name, such important horses as Preakness and Belmont Stakes winner Point Given were raised on the Bluewater land. Point Given now stands as a stallion at nearby Calumet Farm.
February 27, 2015
Shannon White embarked on her Thoroughbred operation, Ballantrae, after the January 2013 dispersal of Fares Farms, where she held the position of general manager for more than a decade.
A scenic, 112-acre property, Ballantrae offers a full array of bloodstock and equine management services. Situated at mile 7 of the Run the Bluegrass course, Ballantrae will also host this year's Run the Bluegrass pre-race farm-to-table dinner, as well as the Kentucky bourbon and Thoroughbreds tour.

Prior to founding Ballantrae, White guided several notable horses to prominence at Fares Farms, including two-time Horse of the Year Curlin, whose major racing wins include the Preakness Stakes, Breeders' Cup Classic, and Dubai World Cup; and Embur's Song, 2011 Canadian champion older mare and multiple graded stakes winner.

White has been involved in the horse industry for over twenty-five years, initially as a quarter horse owner/exhibitor and as an open show judge. Since 1990 she has been involved with various enterprises in the Thoroughbred industry including breaking and training, foaling and sales preparation.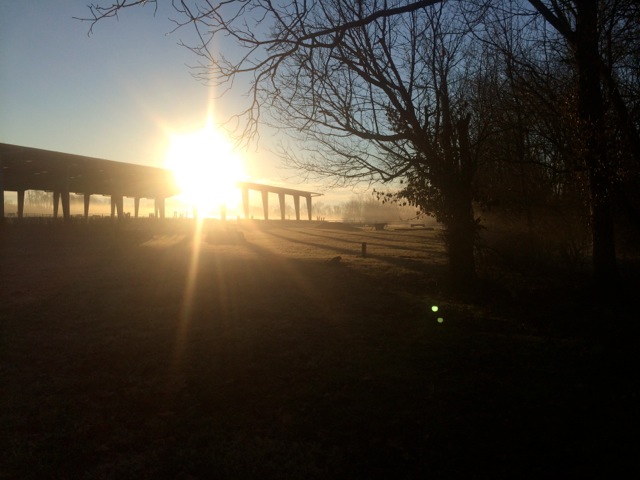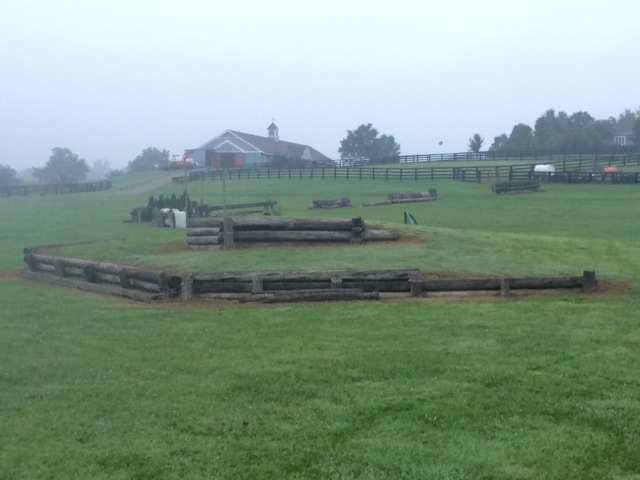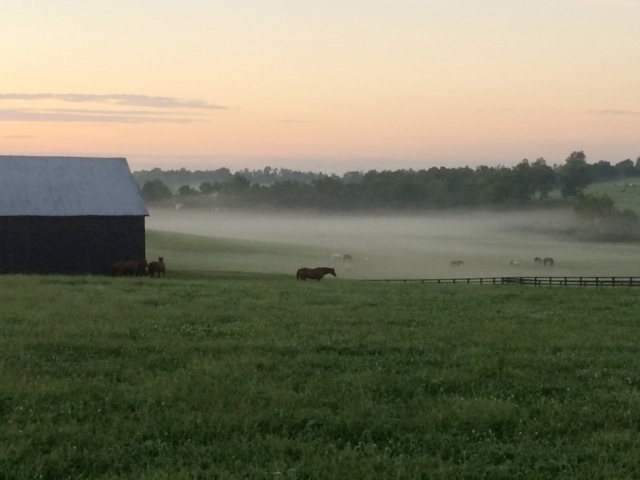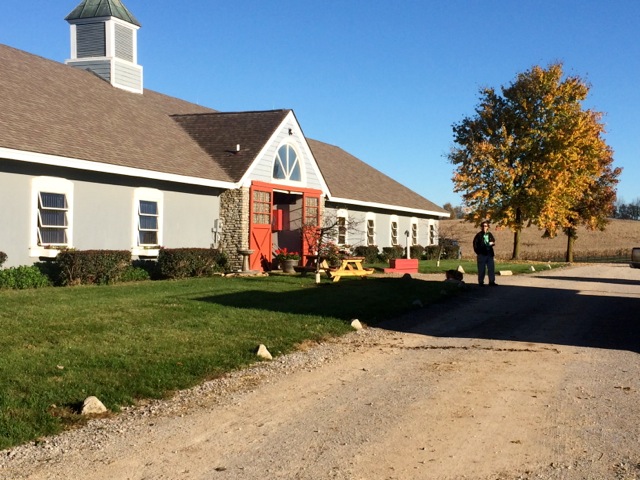 February 20, 2015
Copy by Esther Zunker; photos courtesy of Carriage Station Farm
Like most of the farms along Old Frankfort Pike, Carriage Station is steeped in history and operated by people with a passion for the horse industry.
The 92-acre property is owned and operated by Jessica Bollinger and Cathy Wieschhoff and serves as a boarding and training facility for sport horses. Once a cattle farm, the land (originally 102 acres) was purchased in 1984 by Bollinger's father, Jesse, and uncle, Ed Peter, who divided it into 50-acre parcels.
Bollinger and her father constructed a home, barn and fencing on their portion of the property with the goal of developing it into an eventing/boarding operation. The father-daughter duo eventually bought 40 acres of Peter's portion of the farm to expand their business.
"It's a wonderful lifestyle, and you get to see young and old meet their dreams with horses, whether it's a show jumping or trail riding," said Bollinger of Carriage Station, which features rolling Bluegrass pastures, cross country schooling fences, a water jump and covered arena.
Wieschhoff was hired as the farm's horse trainer/instructor in 1991 and now operates her CW Event Team program from the farm. A Three-Day Eventer, Wieschhoff competes both nationally and internationally, including at Lexington's Rolex Kentucky. She specializes in teaching eventing, show jumping and dressage and has re-trained several former Thoroughbred racehorses.
Bollinger, a licensed clinical social worker, also operates a relationship therapy therapy practice from Carriage Station.
Donamire Farm
February 13, 2015
Donamire Farm, a 620-acre property on the corner of Old Frankfort Pike and Yarnallton Road, is owned by Don and Mira Ball of Ball Homes, one of Lexington's top home-building companies.
Known for their philanthropy efforts, the Balls have hosted many fundraisers at Donamire over the years, including Kentucky Education Television's annual Summer Celebration. The picturesque farm has also served as the setting for a few horse racing-related movies, the most recent of which were "Dreamer" and "Simpatico."
The Balls purchased Donamire in 1983 and developed the farm into a prominent Thoroughbred breeding and racing operation. One of their first horses, Ambassador's Image, set a track record at Keeneland that stood for 25 years (until the track changed to a synthetic surface). Another horse, Going Straight, was a contender in the 1971 Kentucky Derby.
Some of Donamire's distinct features include its five-furlong training track and one-mile European-style turf course. Its barns are made of Indiana limestone, with steep-pitched roofs topped with idyllic cupolas and spires. While Donamire is a fairly new operation, its stone fences date back to the 1820s.
Considering the Balls' involvement in the home building business, it's no surprise their personal residence is one of the property's standouts. Modeled after a French chateau, the home sits on the farm's highest point.
Also on the property is a 10,000 square foot English manor-style guest house, which features two guest suites, 30-foot-tall gray Doric columns and a brick chimney. Donamire additionally has its own conservatory, rose garden, greenhouse and five-acre vineyard.
February 6, 2015
Photos and copy by Esther Zunker
The scenic drive down Old Frankfort Pike isn't complete until you stop at Wallace Station. Built at the turn of the 20th century by the McKinivan family, the quaint, historic building was once a train depot, post office and country store before assuming its current incarnation as an upscale bakery and sandwich shop.
Flanked by numerous Thoroughbred farms, Wallace Station serves as a haven to both locals and visitors that relish its gargantuan, gourmet sandwiches and made-from scratch desserts.
The restaurant, which prides itself on putting fresh, local flavor and ingredients into all of its food, was recently featured on the Food Network's "Diners, Drive-Ins and Dives." The show is hosted by Guy Fieri, who ranked Wallace Station's Big Brown among his top five favorite burgers.
Owned and operated by Chris and Ouita Michel, Wallace Station has a clear horse-racing theme, with racing silks and farm logos adorning the walls, and food named after famous horses and racetracks. In addition to Wallace Station, the Michels run the gourmet restaurant Holly Hill Inn in Midway; and Windy Corner Market and Smithtown Seafood in Lexington.
Wallace Station was named after Caleb Wallace, an appellate court judge who owned a large estate on Old Frankfort Pike in the late 1700s. Wallace, who had close connections with past presidents Thomas Jefferson and James Madison, is founder of Lexington's Transylvania University and helped establish the public education system in Kentucky.
January 23, 2015
Copy courtesy of Three Chimneys and Esther Zunker
One of the most distinctive farms nestled among Old Frankfort Pike's endless rolling hills and white picket fences is Three Chimneys.
Pulling up to the expansive property feels like a step back in time. The pristinely-manicured grounds are complimented by historic-looking barns constructed of oak and limestone. In the office, jockey silks and crystal trophies are on display.
A major player in the Thoroughbred industry for more than four decades, Three Chimneys started as a small boarding operation of nine mares by Robert and Blythe Clay. The pair purchased the original 100-acre property in 1972, and they soon grew the operation from one old tobacco barn and one employee into a boutique, six-horse stallion operation.
Everything changed in 1986, when the undefeated Triple Crown winner Seattle Slew was moved to the farm. Because of that stallion's great success and the other prominent horses that followed, the farm eventually expanded to 1,800 acres, with more than 400 horses and 100 employees.
Over the years the Midway, Ky. operation has managed the careers of some of the top stallions in the history of American Thoroughbred breeding, such as the aforementioned Seattle Slew, Dynaformer and Rahy. The farm has also been involved with the breeding and/or racing careers of such stellar mares as Hidden Lake, Pompeii, Gorgeous, Ave, and Miss Keller.
While the Borges-Torrealba family of Brazil bought a controlling interest in Three Chimneys in 2012, the farm has maintained its family-oriented feel and comfortable atmosphere.
Photos and copy courtesy of Endeavor Farm
Endeavor Farm was born out of the former Richland Hills Farm and offers boarding and sales preparation for all major U.S. horse sales. The serene landscape is located on 160 acres of gently rolling Bluegrass, just outside Midway, Ky.
Endeavor's rich history dates back to 1786. The property was originally owned by Caleb Wallace, who helped author the Constitution for the Commonwealth of Kentucky.
Today, Endeavor is owned by the partnership of Terry Nickell and Mark Tsagalakis' M & T Equine Ventures. Prior to acquiring the farm, Nickell had served as farm manager of Richland Hills on the same property for more than two decades. He became acquainted with Tsagalakis, a California-based Thoroughbred breeder, owner and trainer, while he was a longtime client of the farm.
Endeavor is also situated near Woodland Stud, birthplace of the Thoroughbred industry in Kentucky and home to the great stallion Lexington. The property has had a rich heritage in the Thoroughbred business with The Alchemy, Wafare Farm, and Richland Hills as previous residents.
The rich soils have been home to notable sires Dynaformer and Glitterman, as well as Hall of Fame member McDynamo. Its neighbors include Lane's End, Three Chimneys, WinStar, and Darley, who have also found the fertile soils in this area conducive to raising elite Thoroughbred athletes.
Endeavor currently stands Greeley's Conquest, a multiple stakes-winning son of Mr. Greeley.
Darley's Dubai Millennium
January 9, 2014
Photo and copy courtesy Darley
Darley's Dubai Millennium Farm was formerly a part of Henry Ranier's Shadowlawn Farm in the 1980s. The 510-acre property is located about five miles from Darley's Gainsborough Farm near Midway, Ky., and includes 93 stalls for yearlings, as well as a five-horse stallion barn.
Dubai Millennium is owned by Sheikh Mohammed's global Thoroughbred breeding operation, which currently stands stallions in six countries around the world.
The farm was named after the racehorse and sire Dubai Millennium, bred by Shiekh Mohammed, the ruler of Dubai, and owned by his Godolphin Stables. Dubai Millennium is best known for winning the 2000 Dubai World Cup, which carries a purse of $10 million, making it the world's richest horse race.
The Darley and Godolphin operations have been represented by numerous other grade I winners over the years, including 2008 Breeders' Cup Juvenile winner Midshipman and 2006 Preakness Stakes winner Bernardini.
It's interesting to note that Breeders' Cup Classic winner Wild Again began his stud career on the Dubai Millennium property when it was called Shadowlawn. The stallion later moved to Calumet Farm, and then to Three Chimneys Farm on Old Frankfort Pike, not far from Dubai Millennium.
December 26, 2014
Photos and copy courtesy Airdrie Stud and Libby Jones
The old stone walls that border both the north and south sides of the Old Frankfort Pike mark the original property of the historic Woodburn Stud, known as the birthplace of the American Thoroughbred industry.
Former Governor Brereton Jones and wife, Libby, purchased the 495-acre property in 2002. The farm, which was originally owned by ancestors of Libby Jones, is located in Woodford County, across the road from the Joneses' Airdrie Stud on Old Frankfort Pike.
"It was our desire to acquire this land so that we can put a conservation easement on the property and thereby save it as farmland for future generations," Jones said when he bought the farm. "Woodburn is in the heart of the best farmland in the world and we are excited about the opportunity before us."
Woodburn was originally awarded as a land grant in 1786 to General Hugh Mercer for his meritorious service during America's Revolutionary War. Sadly, Mercer died in battle without ever seeing his land.
It was subsequently purchased in 1790 by Robert Alexander, a Scottish immigrant, from the heirs of General Mercer. It was Robert's elder son, R. A. Alexander, who first began the development of the farm and led to its success in the mid-nineteenth century. The farm's development continued with R. A.'s brother, A. J. Alexander, and has passed down through seven subsequent generations of the family. Today, the original land grant is still owned and farmed by A. J. Alexander's descendants and their families.
Thanks to R. A. Alexander, Woodburn is now recognized as a foundation farm of the Thoroughbred business. As a student of genetics and animal husbandry, Alexander began keeping meticulous records of his horses' matings. Those records evolved into the American Stud Book, the forerunner of the Jockey Club registry, which today records all Thoroughbred pedigrees.
Alexander also conducted the first large scale Thoroughbred auctions held in the new world, the forerunner of modern Kentucky horse sales, with clients arriving by train from numerous states, as far away as New York. The passengers disembarked at nearby Spring Station on Woodlake Road and were driven by carriage to the corner field at the junction of Old Frankfort Pike and Woodlake Roads, where the auctions were held. (Now the junction of Routes 1681 and 1685).
Alexander, who was educated in England, and held both Scottish and America citizenships, returned frequently to Europe, bringing back to Kentucky the best bred animals available--not only Thoroughbreds, but also superior cattle, sheep, and swine. Their fine breeding, combined with the rich fertility of the Bluegrass soil on which they grazed, produced and nurtured animals of exceptional quality.
In the equine category, five Kentucky Derby winners were bred at Woodburn in the nineteenth century. The horse Lexington, purchased by R. A. Alexander, led the American Sire list for 16 years, beginning in 1850, a record unmatched to this day.
The Civil War brought great challenges to Woodburn. Alexander had hoped to be regarded as a neutral, non-participatory agent during the war years. He flew the British Union Jack over Woodburn and, in doing so, was not attacked by either the Confederate or Union armies.
Unfortunately, heavily armed deserters from both sides attacked the farm on at least two occasions, stealing horses and goods. On one such occasion, thieves arrived planning to seize the immortal shire, Lexington, as they were acquainted with his reputation. A stable hand cleverly foiled their plan by bringing them a horse who closely matched Lexington's description and they unwittingly took the substitute!
In addition to the Thoroughbred, from the mid to the late 19th century, Woodburn became famous for producing the fastest trotting horses in the country and is generally regarded as the birthplace of the American Standardbred.
December 12, 2014
Photos and copy courtesy Airdrie Stud
The Airdrie Stud of Governor and Mrs. Brereton C. Jones consists of more than 2,500 acres primarily on Old Frankfort Pike, near Midway. Much of this land is part of famed Woodburn Stud, home of the immortal stallion Lexington during his 16-year tenure as America's leading sire (during the 1860s and 70s). Woodburn, also the home of five 19th century Kentucky Derby winners, is essentially the birthplace of Kentucky's Thoroughbred industry.
This gently rolling, mineral-rich land in the heart of North America's richest limestone/bluegrass region, provides a perfect, natural base on which to raise young runners of exceptional quality.
From the turn of the century, through the fall of 1972 when Brereton and Libby Jones founded Airdrie Stud, no Thoroughbreds had been raised on this prime land. Since then, more than 150 stakes winners and earners of approaching $100,000,000 have been bred and raised at Airdrie--an honor roll that includes more than 20 grade I winners. Among that list is 2000 Breeders' Cup Juvenile Fillies winner Caressing, 2012 Kentucky Oaks winner Believe You Can, and 2008 Kentucky Oaks winner Proud Spell.
December 5, 2014
Copy and photos courtesy Shelby Hume
David and Shelby Hume live on the 40-acre Excelsior Farm on Old Frankfort Pike and like to say they enjoy two kinds of horsepower.
David restores the 70's model French car called the Citroen SM, while Shelby enjoys helping people with horsemanship skills and enjoying their Lusitano breed horses.
Excelsior has been in David's family four generations and previously raised cattle and tobacco before switching to a more horse-based interest. The current farm house is a Sears and Roebuck catalog house in the Bungalow style that has been covered with field stone from the original home's foundation.
David's great Aunt (Elizabeth Taylor) was the last person to live on the property prior to David and was a school teacher in Woodford County for 60 years. David likes to believe that he and Shelby are carrying on Elizabeth's tradition of providing love and care for stray animals.
November 21, 2014
Copy and photos courtesy Lane's End
Lane's End, owned by Mr. and Mrs. William S. Farish, is one of the world's premier Thoroughbred farms encompassing more than 2,300 acres in Woodford County. While the majority of the property is located on Midway Road, Lane's End keeps a few horses on a small parcel of land on Old Frankfort Pike (above photos are of the Midway Road property).
A native of Houston, Texas, Will Farish is a lifelong horseman who raced his first stakes winner, Kaskaskia, in 1967 and has since raced more than 165 stakes winners and bred more than 300 stakes winners, including the 2003 Horse of the Year Mineshaft, 1992 Horse of the Year A.P. Indy, 1999 Horse of the Year Charismatic, and champion Lemon Drop Kid.
Farish was the first breeder since A. J. Alexander in 1880 to breed or co-breed two horses (Charismatic and Lemon Drop Kid) who combined to win the Kentucky Derby, the Preakness and the Belmont in the same year. In 1992 and in 1999 he was honored with an Eclipse Award as the year's leading breeder.
Lane's End also has an extraordinary record at the sales, as the leading consignor on 26 occasions and as the seller of more than 365 stakes winners, including champions A.P. Indy, Saint Liam, Rags to Riches and Lemon Drop Kid. The last mentioned horse is a member of Lane's End current stallion roster, along with other such prominent sires as Smart Strike, Mineshaft and City Zip.
November 14, 2014
By Esther Zunker
The 640-acre Adena Springs Annex Farm in Woodford Country, Kentucky is the initial parcel of land purchased by Austrian businessman and politician Frank Stronach, when he started his Kentucky Thoroughbred operation in 1989.
The oldest known inhabitants of the land were the Adena Native American tribe, which were originally attracted to the Bluegrass area because of the quality of water in the free-flowing local springs. (Water which still today yields Kentucky's strong Thoroughbreds and smooth Bourbons.)
The farm was named after the Adenas, both as a tribute and as a commitment to perpetuate in the land the grace, spirit and strength instilled by its original residents.
Adena Springs, a record eight-time Eclipse Award winner as Outstanding Breeder, has bred and/or campaigned more than 225 stakes winners. Their impressive collection is topped by champions Ghostzapper (also a Hall or Famer), Ginger Punch, Perfect Sting, Hunters Bay and Phantom Light; Preakness Stakes (gr. I) winner Red Bullet; and additional grade I winners Game on Dude, Sugar Shake, Citronnade, Spun Sugar, Milwaukee Brew, Golden Missile and Collect the Cash.
Stronach's Kentucky operation is now mostly based in Paris, Kentucky, Florida and Canada. Their Old Frankfort Pike property is currently for sale (by Riddell Realty) - so If you're in the market, it will only cost you $9,000,000!
November 7, 2014
By Esther Zunker
On three historic parcels of rolling, Fayette County and Woodford County, Kentucky acreage, dotted with freshwater springs, is Stonestreet Farms.
The picturesque farm was established in February of 2005 when the late wine mogul Jess Jackson (founder of Kendall-Jackson Winery) purchased the 460-acre former Buckram Oak property on the western edge of Fayette County (Lexington), Kentucky. Stonestreet's breeding division is now housed across three properties totaling over 1,800 acres of limestone-based, calcium-rich grasses.
The beauty of the farm, now run by Jackson's widow Barbara Banke, is only matched by its stellar results in the auction ring and racetrack. In just nine years, Stonestreet has produced nearly two-dozen stakes winners, including 2007-2008 Horse of the Year Curlin, the richest Thoroughbred in North American racing history and who now serves as one of the farm's stallions; 2009 Horse of the Year Rachel Alexandra; 2011 champion 2-year-old filly My Miss Aurelia; and other grade I winners Dreaming of Julia, Gozzip Girl, Hot Dixie Chick, Jimmy Creed and Carpe Diem.
"I'm committed to raising sturdy, healthy racehorses... I'm proud of what we've done up to now at Stonestreet and we will continue to get better," Banke said.
Stonestreet's Fayette County acreage, with its eighty nine perfectly aligned oak trees, lines Mile Eight through Nine of our Half-Marathon course, at the corner of Old Frankfort Pike and beautiful Elkchester Road.
It's our Race Director's favorite stretch as its views and serene energy are unparalleled!